English KnowHow 3: Student Book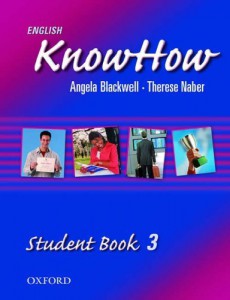 Know how now! This integrated skills series gives students the lessons they need to put their English skills to instant use! Providing balanced coverage of the four language skills, it gives students the opportunity to move seamlessly from a beginning to a challenging intermediate level, while offering support and encouragement at every stage. Designed with plenty of twists and turns to appeal to adult and young adult learners, the 16 units in each book feature thorough grammar presentations, frequent speaking and listening opportunities, carefully sequenced reading and writing tasks, "KnowHow" and "Help Desk" sections for troubleshooting the trickiest language points, and review pages dedicated to recycling previously covered material (see also www.eslgold.com/speaking/english_knowhow_book3.html).


KnowHow 3:

A rang

e of contexts with international appeal to motivate adult learners.
Grammar presentations to satisfy the adult learner's 'need to know' and provide a strong foundation for communication skills.
Varied speaking and listening opportunities to develop practical communication skills for use in authentic situations.
Reading and writing tasks to encourage learners to reflect on meaning and express their own ideas.
Review units, with dedicated 'Recycling' sections, to ensure learners stay in touch with previously acquired language.
'KnowHow' sections offering additional tools to develop pronunciation and efficient learning skills, and a 'Help Desk' feature to provide insight into issues of language usage.
Vocabulary: expressions with "have," coincidences and connections, jobs and work experience, natural phenomena, heroes and fame, landmarks, services and advertising, unsolved mysteries, misunderstandings and manners, health and laughter.
Functions: conversation strategies (i.e., changing the subject), persuading, confirming information, saying you're not sure, giving advice and warnings, expressing liklihood, expressing likes/dislikes, expressing irritation, clarifying misunderstandings, expressing gratitude, giving information about health.
Grammar: review of present and past forms, present perfect continuous and present perfect simple, past perfect, passive, first and second conditionals, modals, reported speech, third conditional, connectors.
Book and Audio
Book: available on request (contact me)
Audio:


Khuyến nghị: bạn nên mua giáo trình để đảm bảo tuân thủ các quy định về bản quyền.